Hi Everyone,
I did a video recording with Woody today and unfortunately I did not save it correctly and Woody already left for the day. I am so sorry and my charts/comments are updated.  We would love to hear  any questions you would like me to ask Woody. Just send me an email [email protected]
TECHNICAL VIEW by Gary Dean: The outlook for a messy market is exactly what we are seeing (Thanks You Woody!!)  The Predictive Analytics Model was throwing out warning signs as the spx was +20 yesterday. I was NOT able to catch the downside trade, but we did exit our longs at the perfect spot. As you can see on the weekly, my upside target was 4014, which was the 200 week MA. Sellers were indeed waiting and now the spx is some 120 points lower from that high. I will wait for a bounce to short, unless we see this move lower pick up steam. Then I would consider looking for a long trade. For now, I will just let things play out.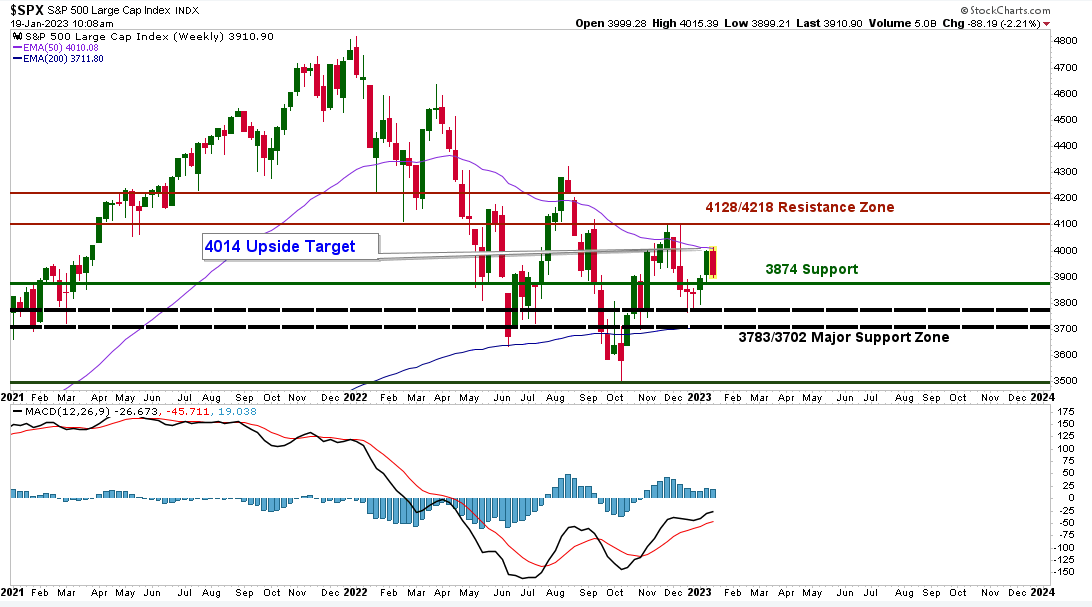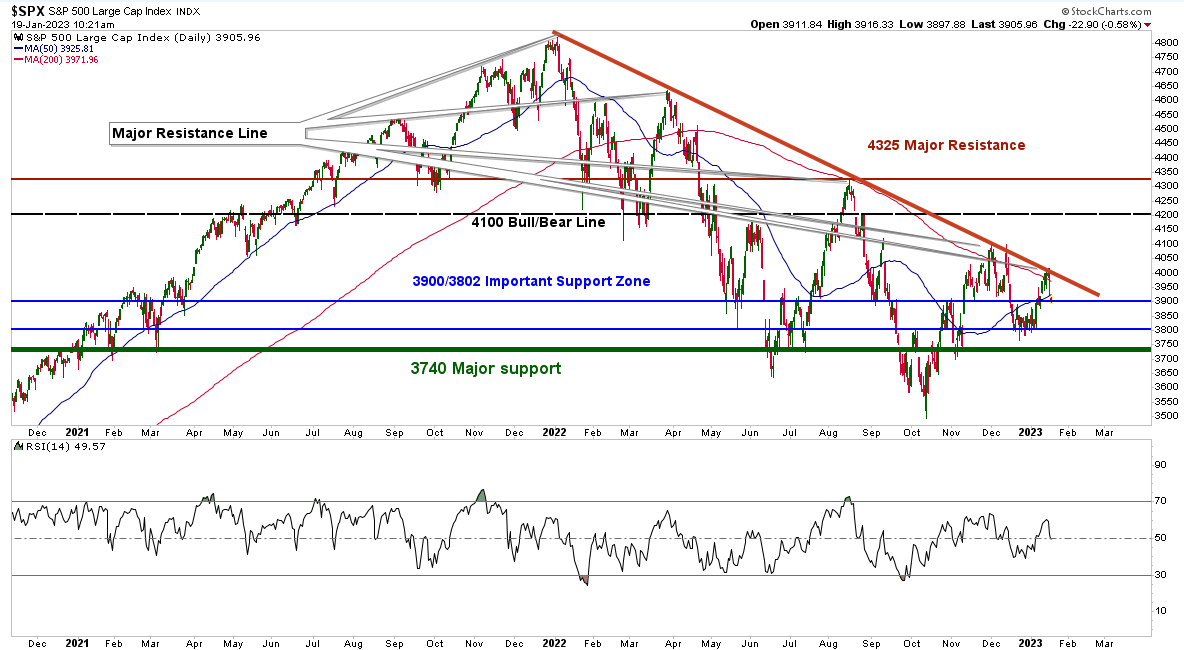 The bearish wedge along with bearish divergences set up played out as expected, even if I missed the trade. Support is at 3880-ish and I would NOT get aggressive on the short side near there. Buyers may be waiting. Expect a very choppy down trending tape for the next few weeks. Big moves both ways are expected.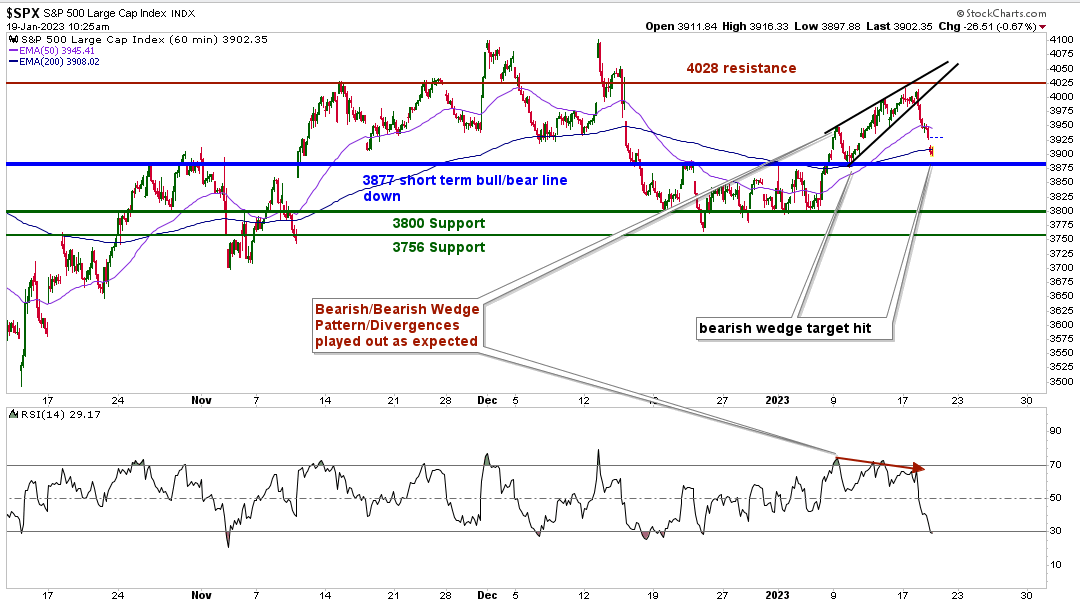 The short term support zone is 3888/3876. If the bears press price below that support zone, we could see a mini sell off down to the 3800. The bulls need to get price above 3950 to get out of the jam they are in for the past couple of days.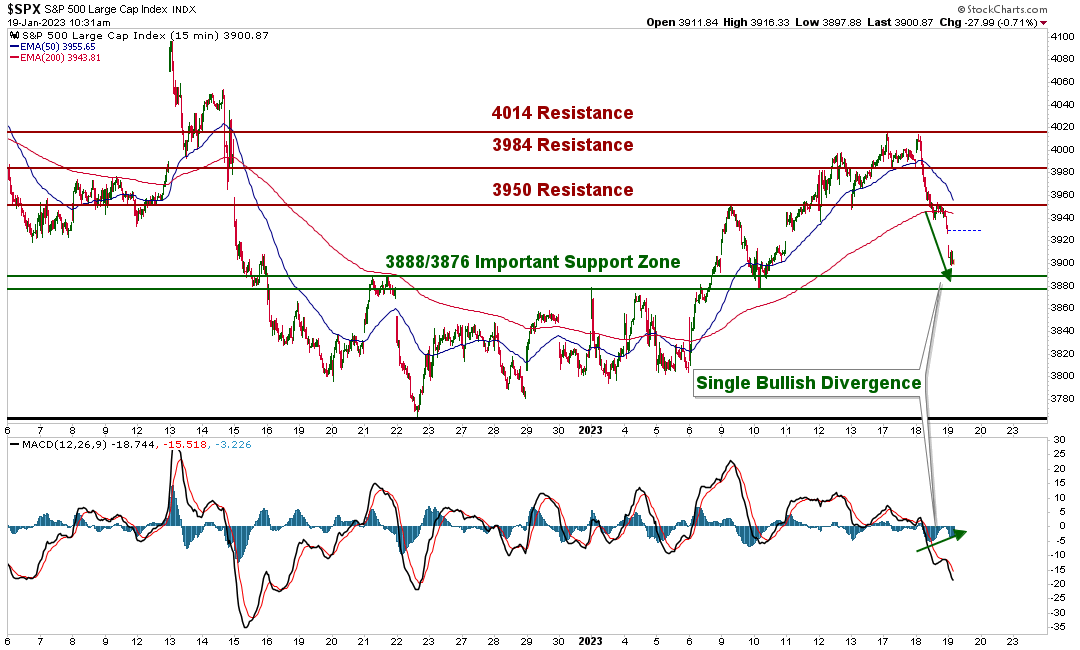 Summary:   The sell signaled worked out perfectly and now we either wait for a bounce to short or the peeps to get too bear-ed up. If we see everyone bearish and we have buy signals, I have no problem taking a long side trade. I would prefer shorting rallies though. G
Information is for paid subscribers & may not be copied or distributed. © Copyright 2023. The information contained herein was provided by  Sentiment Timing and/or its publishers does not make any representation or warrant with regard hereto, including but not limited to those of accuracy, completeness, reliability, timeliness and/or infringement on the rights of third parties. This Publication expresses a view on the markets but is not intended to provide any specific recommendation to buy or sell any security. Investing is Uncertain and always carries Risk. Of Losses. Subscribers should always assess Market Risk parameters with their broker or financial adviser.
Information is for paid customers and may not be copied or distributed Copyright 2023