MARKET ENVIRONMENT: by Woody Dorsey. The October Low still has cogency. The World Turned into a new year but not much has changed. Markets are still not definitive but fit best with the profile that "Markets are just Messy even though they may evidence a bid." Rates are Rising and Inflation is sticky. That is still the big picture and it may continue for some time. The Market is a Mess but stocks are still bid. Profile was for strength into early this year. It happened. The nuance is now for tactical topping and then weakness into Mid-February followed by strength into April, followed by more harsh weather. A Mess. Trends are still up from the October Low' believe it or not, as you see. Still, it is like s see saw. Up, Down and then again.
"Lows in Financial Culture happened last Fall." Sentiment came in today @ 93% Bullish. All of the Global Negatives are still boring? We know all about it. Yes, Nothing, may be clear for some time. Inflation continues as does the, War.  "Stocks are still in some sort of a congestion process. Investors 'get' that a Low may likely be in, but they do not like that idea." It is a Mess. Opining seems like the best way for airing out those dire opinions about everything that the Talking heads like to obsess about. Everyone is forecasting everything but no one really knows anything Don't believe in anything but a Messy Market. That may mean more of a confusing sideways market for this year. Get used to it?
As noted: "There is no reason for Fear. Caution is not Fear. There isn't any Need for Greed The profile allows that an absolute low occurred but there is no time to be a hero."
NEAR TERM: Investors are still obsessing on big pictures' which are not clearly happening. Every week seems like a new week.
INTERIM TERM: Stocks will eventually better 'bottom' on a future final Rate Rise or, the discounting of that rise? Expect this Early 2023 recovery High, as expected, will be followed classic failure later this Spring. The Mess will continue. 
DORSEY MARKET SENTIMENT: The negative sentiment nadir in October was not surprising; You could smell that sentiment extreme happening. 'A sly bottom' occurred. That was a key zone in the market The market still REMAINS very dodgy overall. Sentiment and markets are basically still in an elongated recovery profile. The pattern is up into April and then down again.
MARKET SUMMARY: Repeat: "This is not a Market Environment for any extreme Market Beliefs." Markets are still on a Tightening rope. Stocks are still playing out, as expected, a big messy sideways game. The market does not want to let you understand it. Don't expect easy Markets. The rally from October is rolling over.
---
Trading Instruments: I use SSO if I am expecting the spx to move higher. Trades are entered/exited using spx numbers. SDS is an inverse etf used when we expect the spx to head lower.  SDS moves higher when the spx moves lower. They are both 2x etf's which trade just like stocks.
TECHNICAL VIEW by Gary Dean: The bulls have gained some confidence which is not surprising. We may see some chop over the next few days to get more bulls more bulled up. The majority always has to be wrong. They are the energy that moves the tape. If the majority are overly bullish, they will be the energy that drives price lower. There are patterns that sentiment follows as well. Tops typically see a number of 95% or higher reading before rolling over. Price will typically diverge from sentiment (sentiment makes lower high as spx makes a higher high) Just keep in mind, we are at an inflection point here where price should roll over. I just want to wait for a proper set up to get short using sds. 4014 is the 50 dma (weekly) and an upside pivot I mentioned over a month ago. Seller were waiting and we saw the spx move from +15 to  -3 in a fast manner. I THINK we need to see a couple of head fakes before the real move hits.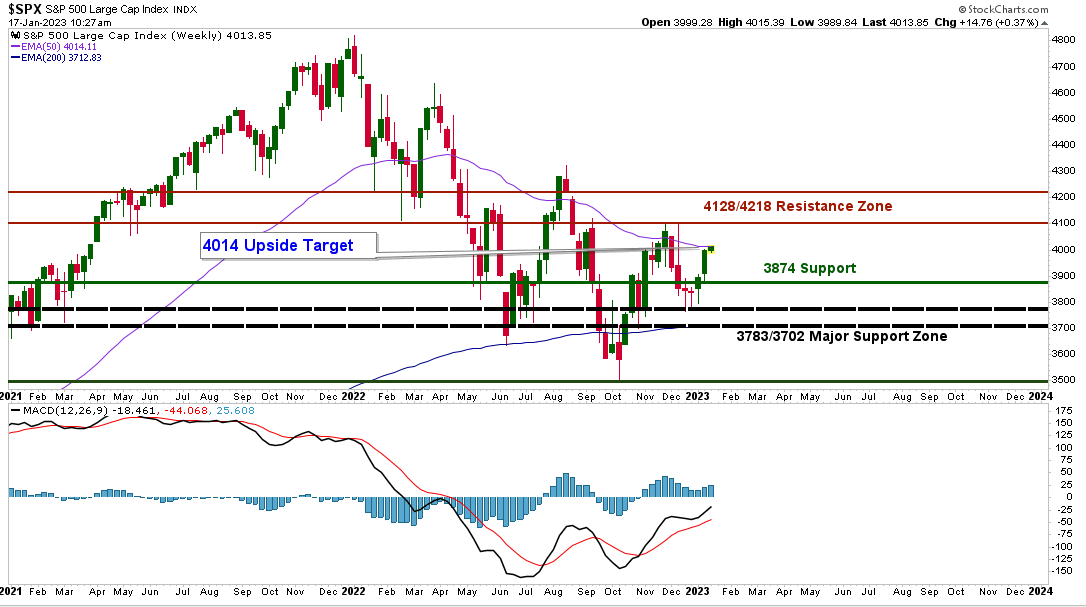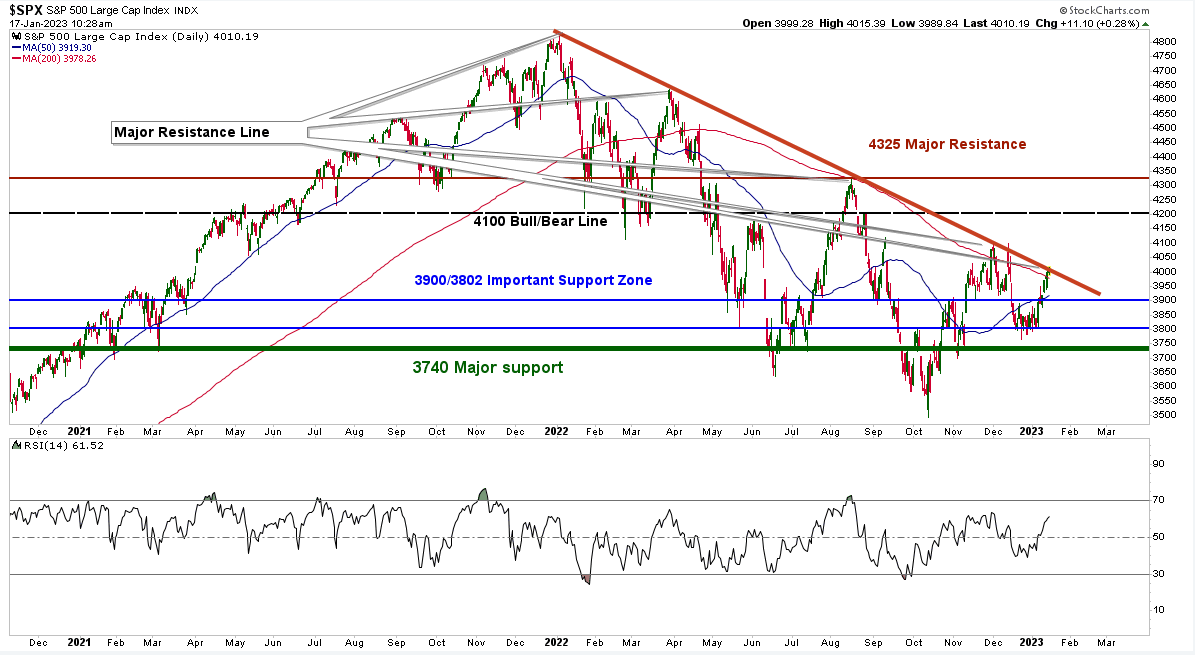 The bearish rising wedge with a 3 test pattern has been a fantastic trading pattern for when l0oking for tops. Why aren't I shorting right now? Because it would be to fast of a trade. Again, using history as our guide, we will see a drop that finds buyers at an important pivots and then we see a hard move higher to test the broken wedge (when it breaks) That is the mini swing trade set up I will be waiting for. If we see that happen, the bears will become frustrated being wrong, the perma bulls will get more bulled up and that will be when I take a short position. 3950 is an important pivot that the bears need to get through to get any momentum going.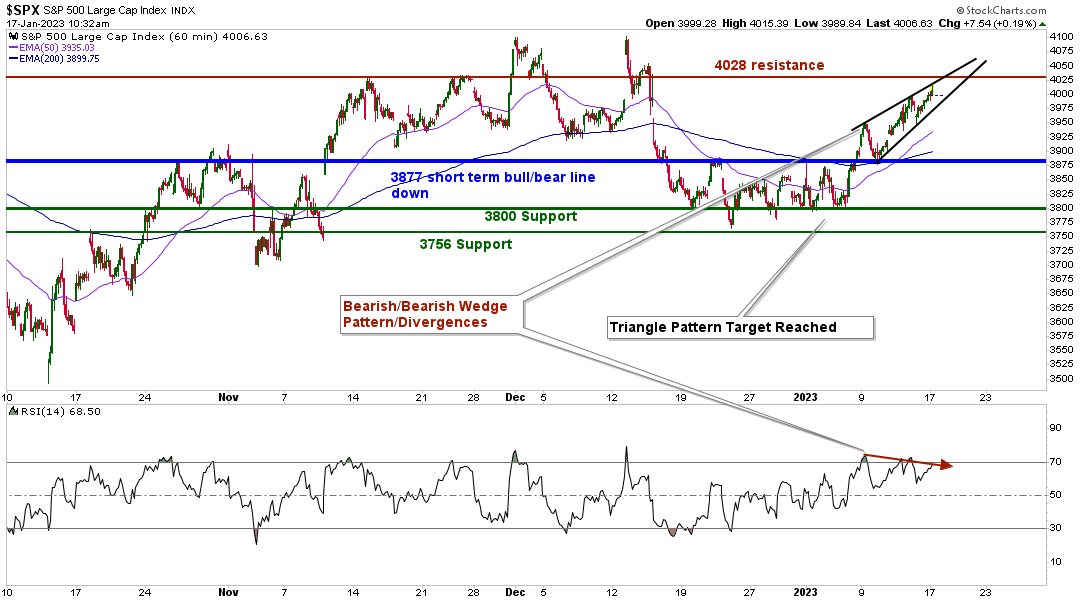 The 15's are showing bearish divergences and this chart just shows the support/resistance pivots to watch if self trading.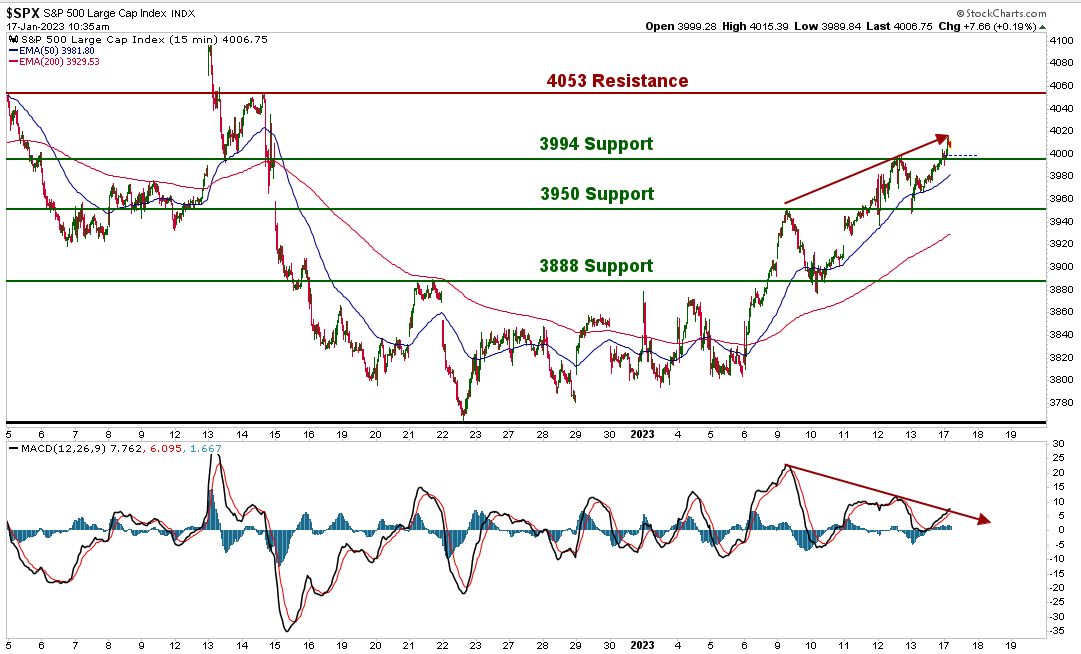 Summary:   The bulls pressed price right into my 4014 resistance pivot and sellers were waiting. Be patient here, as we SHOULD see a few head fakes down before the real move hits. If higher first, I then will look to short at/near the 4050. G
Information is for paid subscribers & may not be copied or distributed. © Copyright 2022. The information contained herein was provided by  Sentiment Timing and/or its publishers does not make any representation or warrant with regard hereto, including but not limited to those of accuracy, completeness, reliability, timeliness and/or infringement on the rights of third parties. This Publication expresses a view on the markets but is not intended to provide any specific recommendation to buy or sell any security. Investing is Uncertain and always carries Risk. Of Losses. Subscribers should always assess Market Risk parameters with their broker or financial adviser.
Information is for paid customers and may not be copied or distributed Copyright 2022