MARKET ENVIRONMENT: by Woody Dorsey.
Market moves can happen very quickly in this environment. There is a latent Unstable Energy in all the markets which has been producing unusual spikes. That can happen both ways. Don't become Complacent. Declining profiles may be Delayed but that does not mean they are Denied. Still, as noted, the move above 2910 was a signal that the market had become rogue relative to the preferred profile. Thus, an upside can of worms was opened and is still not defined. A real reversal with acute reversal energy has not manifest as yet. Easy Money is not any answer. Politics and Geopolitics will only become more volatile. The next trading Low remains due near 7/18. Yes, this is spurious holiday trading but that does not obviate surprises.
Near Term Diagnosis: Sentiment is 91% Bullish.
Interim Term Diagnosis: The Interim Trend remains strange and challenging. There is a low due in October.
Long Term Diagnosis: The next major Low is due in 2022. Thus, Structurally, Upside is limited, Downside is most likely but Confusing Congestion is also possible. Big Pictures are often relied upon but rarely useful in real time.
QUESTIONS ANYONE?   No Questions Today Please email any questions as they are likely to be of interest to all readers. [email protected]
MARKET TIMING: The Interim Trend is not Bullish. It is not a Buy but exactly what it is, weird. The next tactical trading Low remains due near 7/18.There is also a specific negative indicant due on 7/9. That may infer that the data on 7/5 could be shocking. If so, it suggests the 2980ish high on 7/1 may have indeed been a spike finale of some sort.
SENTIMENT INTERPRETATION: The Dorsey Tactical Market Sentiment is registering high sentiment numbers again. There is a 91% bullish today. The low 6% bullish on 6/3 near 2729 was an atypical low. But, again, no matter what we may assume, low sentiment does align with price lows. Let's see what sentiment is on the next assumed low near 7/18.
The DORSEY Interim Market Sentiment has recovered robustly back up to overbought levels. This certainly allows for any kind of psychological disappointment to become cogent.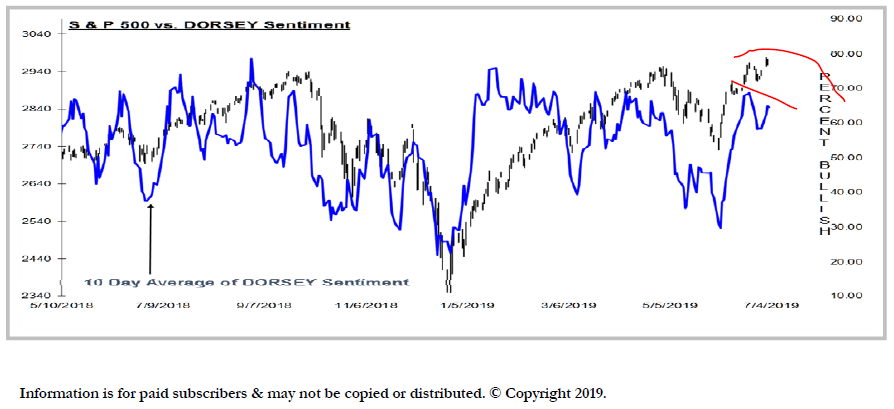 MARKET SUMMARY:  A new decline is due to begin. Let's see what Reality may provide in the next two days. There is a negative episode due into at least 7/18ish. A specific negative indicant is also due 7/9ish. Enjoy a holiday. Thanks for that.
---
Trading Instrument  (Gary Uses) My Trading Instruments are all based off of SPX numbers, but for long side trades I use (SSO) the 2x leveraged etf that follows the S&P 500 and when expecting the market to move lower, I use (SDS) the 2x leveraged etf that follows the S&P 500, it moves higher when spx moves lower.
---
TECHNICAL VIEW by Gary Dean: The bulls are taking this shortened week to grind the indexes higher. As of now, the SPX is the ONLY index making new all-time highs. The RUT is stuck in the mud even as the other indexes closed green yesterday, with a last 5 minute buy program. Nobody wants anything to do with the "risk on" index, which is STRANGE!! We have yet another "gap omen" set up with 2973/2944 as downside targets. This set up has not failed yet and I do not believe it will fail this time either.
The pattern I am seeing for the spx is a similar topping pattern we have seen in the past. It may not follow it exactly, but watch it closely, as previous tops have taken place with this look.
The safety net has been removed for the bulls, as it often is when we are at nosebleed levels. But the VIX spike fractal pattern is still in play, as you can see in the marked area below.
Summary: The fractal patterns I have showing are all in place, as well as one more added today. The spx is in a 3 touch topping pattern (if it follows it) and the fractal pattern between the Nasdaq top in March 2018 and the spx now still looks ok. The VIX fractal pattern, it is also in play and if one works, they all will work. Meaning the only way the vix fractal will play out is if the spx breaks down, which would then bring the nasdaq/spx fractal pattern into play. There bearish divergences in place and with the "risk on" index showing risk is off, it should be interesting to see how this Fed induced jaw boning rally plays out.  The bears need to push through the 2978/2942 support zone to get any momentum going. The real momentum will not pick up on the downside until the 2910/2888 support zone is taken out. Have a great 4th of July!!
Information is for paid subscribers & may not be copied or distributed. © Copyright 2019. The information contained herein was provided by  Sentiment Timing and/or its publishers does not make any representation or warrant with regard hereto, including but not limited to those of accuracy, completeness, reliability, timeliness and/or infringement on the rights of third parties. This Publication expresses a view on the markets but is not intended to provide any specific recommendation to buy or sell any security. Investing is Uncertain and always carries Risk. Of Losses. Subscribers should always assess Market Risk parameters with their broker or financial adviser.
Information is for paid customers and may not be copied or distributed Copyright 2019