[newsletterchapter2 title="GENERAL MARKET COMMENTS"] The 10/15 "Black Hole" (0%) Capitulation confirmed the "Ebola Low" which continues to be ratified as very significant. The degree and persistence of the Recovery was and remains generically Bullish. There were some timing indicants which suggested that the easy upside would revert into some corrective potential. The Up-trade was due to be tiring. And it did.
The  low volume, sideways trade over the last week or so was strange and, enervating.  As I expected: " Upside momentum became choppy." The upside stopped but stocks did not turn down. They decided to rally once again. They are always right.  It is ideal to know when there is a cogent edge like a Black Hole. Nothing now.
[/newsletterchapter2][newsletterchapter2 title="MARKET TIMING FACTORS"] The Negative Price Magnet (Black Hole) on 10/15 completely Recycled Risk Appetite. It did launch a new leg up which has lacked defined termination. In other words, it can just keep going. Some lesser negative energy nodes were due into "11/18."
The expectation was that a short term short trade could be setting up. What happened was that stocks just stopped going up without going down. The interpretation is that this hiatus was just a pause. I allowed that:
"This low volume, holiday type market is hard to get a real read on it." Indeed. Stock markets do not offer any really cogent timing.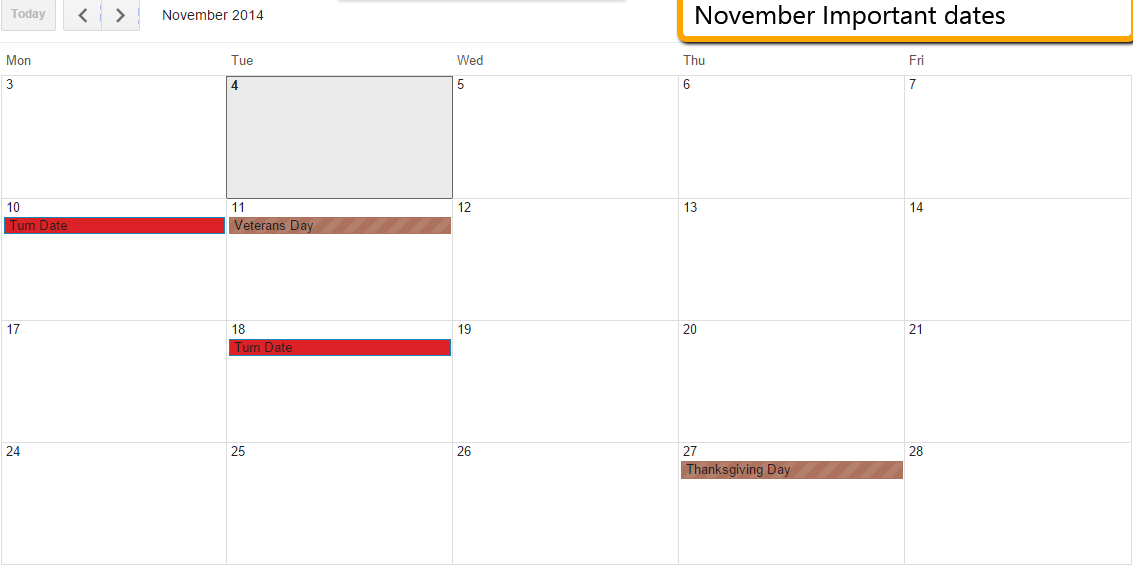 [/newsletterchapter2] [newsletterchapter2 title="MARKETS AS METAPHOR"] Financial Culture is basking in Ebullient Complacency again. Again, new Vulnerability could bring new declines.
[/newsletterchapter2] [newsletterchapter2 title="RELATED MARKETS"] Gold Capitulated. There is a renewed appetite for a long bias but it may stay measured rather than manic at this stage. Treasuries lack any Clarity. Energy remains profiled for some degree of "Capitulation" at any time. Meanwhile the strong Dollar is showing some signs of weakening.
[/newsletterchapter2][newsletterchapter2 title="SENTIMENT INTERPRETATION"]  The best Sentiment interpretation remains that the Extreme Low sentiment of "0%" coincided with an unusual Capitulation Low on 10/15. The Rebound was only stymied by the 96% Bullish reading.
The eerie sideways motion now seems to be resolved by a new thrust up. This is a tell of continuing bizarre strength unless and until the lows of 11/13 are exceeded. This is low probability environment.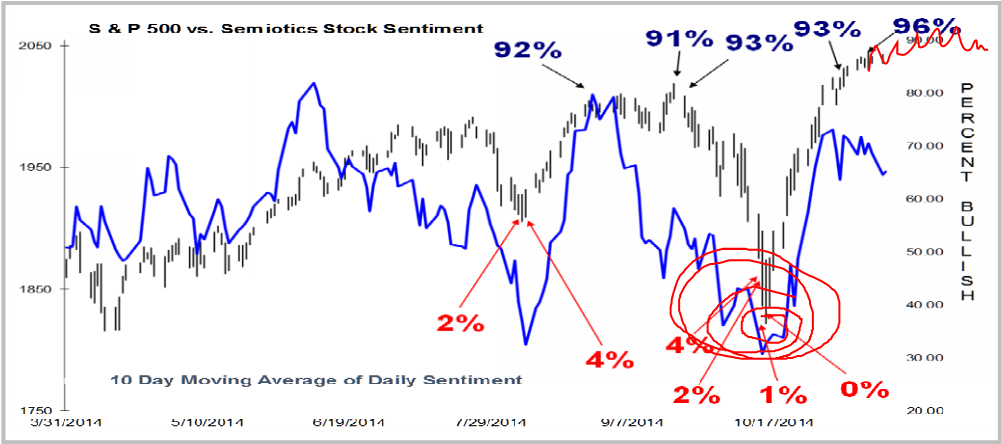 [/newsletterchapter2][newsletterchapter2 title="INTERMEDIATE TERM SENTIMENT"] Intermediate Sentiment indicated that a durable pessimistic extreme occurred @ the 10/15 Black Hole.
Note in the S&P weekly chart shown below that the Ebola low only looks like an extreme "Buy the Dip" episode. This is evidential of more strength but, there is no trading edge to go on. So, take it easy until 2015.
[/newsletterchapter2] [newsletterchapter2 title="THE TECHNICAL VIEW"]  Last week I was expecting to see some type of phase 2 down to start-based off of the negative divergence on the $NYAD chart. Instead we just went sideways and now the $NYAD appears to be heading higher as well.
That suggests we are still in the phase 1 and need to see things reset again. With the low volume and bullish seasonality, it may take time for things to reset.  As we mentioned above-the market is always right! We look for clues for reversals, but when they don't play out, you don't want to fight what is taking place. Right now, that is a very strong bullish move going on-without any breathers.
There were reasons to look lower and all that did was produce a sideways move. The SPX is still trading at the upper trend line of a large expanding triangle, but it could overshoot, like it did at the lower trend line of the pattern. Eventually, this pattern could be dangerous, but with the seasonality and low volume, it may stay up here and chop around before playing out.
2060 is the next resistance zone to watch on the SPX. But until the 2035 level is taking out, the bulls are in charge. The one wild card here is the small caps, which continue to underperform.
[/newsletterchapter2]