MARKET ENVIRONMENT: by Woody Dorsey.
Investors remain hypnotized by this unusually friendly market. The "Pain Trade" has been higher and the "Golden Halo" may continue. This is a "Time of Churning." Meanwhile the dominant timing factor has been the Interim trend which is still positive, as expected. But this may also infer that once the trend is reversed it may also be momentous on the downside. There are strange times. But, it is what it is. Recognize the utility of being informed that this kind of trade might well occur. One has paid to wait for this market process to keep unfolding. Yes, we are all looking forward to a real decline. That is in the future.
Near Term Diagnosis: Sentiment is 42% Bullish today.
Interim Term Diagnosis: The Interim Trend remains positive but momentum continues to wane as divergences continue to develop. A significant "Kill Zone," or overt downside setup, may not arrive until Dates Are For Members Only. This is a trying time for market realists but it could continue as I have advised.
Long Term Diagnosis: The next major Low is due in 2022.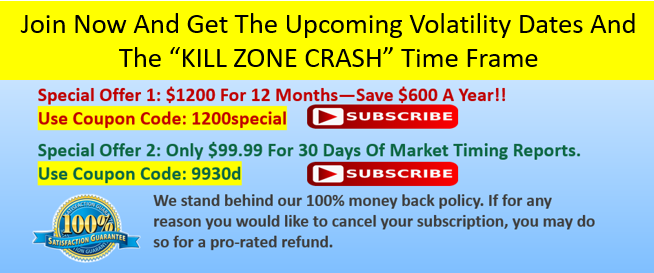 Client Question:  Please email any questions as they are likely to be of interest to all readers and may inspire me to provide more and better answers to the mysteries of the market than I might offer just on my own. [email protected]
MARKET TIMING: The Interim Trend is still positive but maturing. There certainly may be a minor tactical draw down near here. Be alert for a change in market energy. The interim profile has a nominal topping time zone potentially lasting even into Dates Are For Members Only. However, it makes the most market sense to have some setbacks and hesitations in Dates Are For Members Only before one final upside try. So, near term timing is still inconclusive and sloppy.
SENTIMENT INTERPRETATION: The Dorsey Tactical Market Sentiment has continued to be generically optimistic albeit overtly diverging. Investor Psychology becomes more and more vulnerable but there is no indication of a major new negative, as yet.
The DORSEY Interim Market Sentiment continues its extreme divergence. The Bulls remain very conceptually comfortable.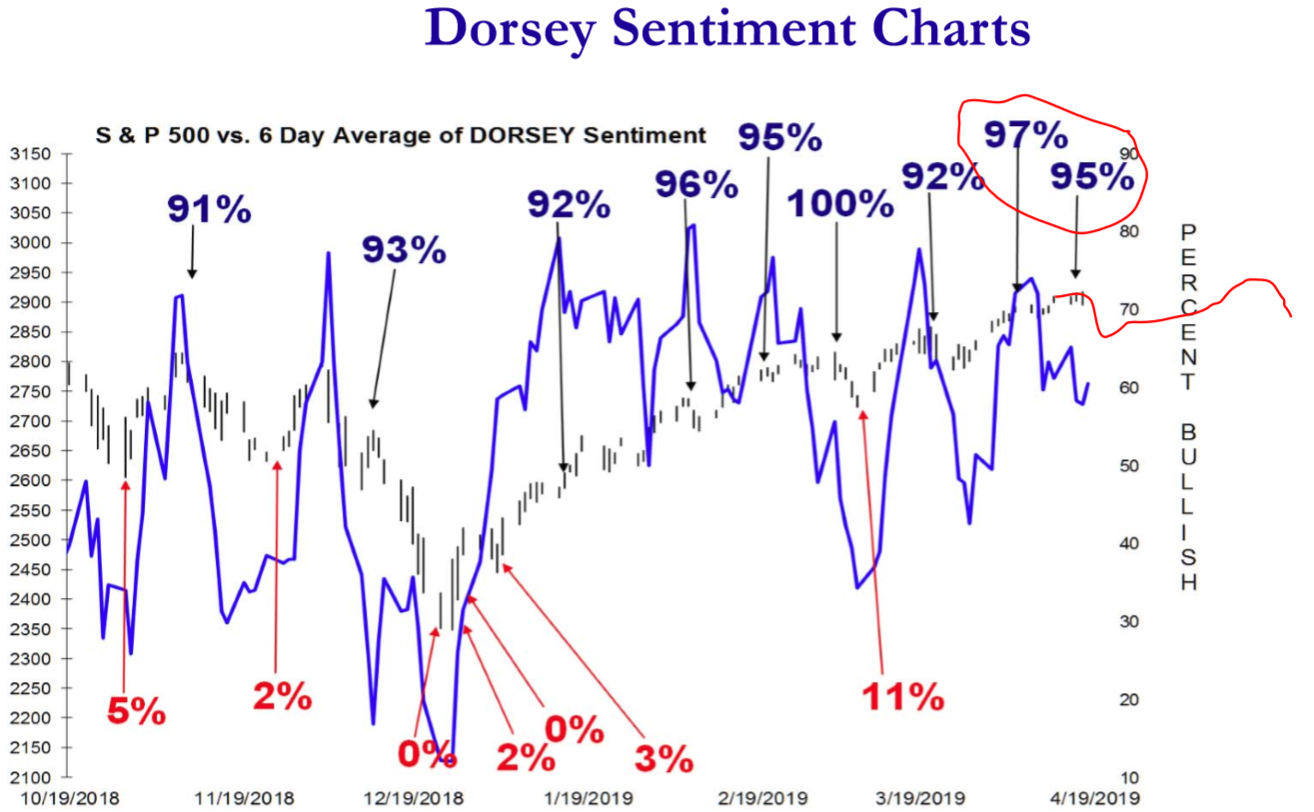 MARKET SUMMARY: Stocks are clearly vulnerable but have not been able to initiate any decent downside. A change in market energy is likely but the interim trend is still positive as expected. Thus, there is no urgency to get overly excited about "Picking the Big Top." Not yet. This is an unusually benign market episode.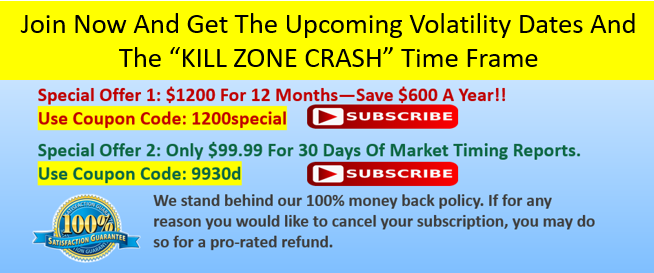 ---
Trading Instrument  (Gary Uses) My Trading Instruments are all based off of SPX numbers, but for long side trades I use (SSO) the 2x leveraged etf that follows the S&P 500 and when expecting the market to move lower, I use (SDS) the 2x leveraged etf that follows the S&P 500, it moves higher when spx moves lower.
TECHNICAL VIEW by Gary Dean: The SPX has started to become a little more volatile over the past few days. Gap ups have been sold off and dips have been bid back up. The bears look like they want to close the 2889 gap omen target, but still have some work left. The bearish wedge pattern and target are still in play, accompanied with bearish divergences and very overbought momentum. But until we see the 2860 bull/bear line taken out to the downside, the bulls will hang around-for now. 
The bulls need to push the spx back above the 2905/2910 resistance zone to get themselves out of this short term jam. If the bears can get below 2890, I believe we should see a reaction trade down to the 2860 bull/bear line. The first clue that things are changing in favor of the bears, would be a break of 2891 before the bulls take it above the 2906. That would give us a lower high and a lower low set up. 
The only thing changing on the daily chart is the bearish wedge target, which continues lower each day if it was to play out. Below is the bearish wedge I am referring to  and ass you can see, it has a target between 2725/2700. Also notice that I changed the wave structure to fit the current moves. This is one of the reasons I have said, even if we push higher, it doesn't make the long side safe. We made new highs and I am now labeling this as the wave 5. That is suggesting that once it completes (may not be the next drop) but when it does, a 50%-78% retracement of the rally from December would be on deck.
Summary: The bears still have some work to do to get momentum going, but this is the first sign of life we have seen from them in quite some time. Watch the 2906 resistance and the 2891 support. Whoever breaks through first will win this battle. Above 2906, we should see 2910-2915. Below 2891, we should see 2870-2860. I still like shorting rallies here.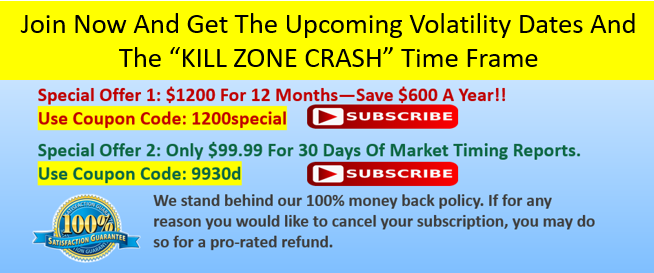 Information is for paid subscribers & may not be copied or distributed. © Copyright 2019. The information contained herein was provided by  Sentiment Timing and/or its publishers does not make any representation or warrant with regard hereto, including but not limited to those of accuracy, completeness, reliability, timeliness and/or infringement on the rights of third parties. This Publication expresses a view on the markets but is not intended to provide any specific recommendation to buy or sell any security. Investing is Uncertain and always carries Risk. Of Losses. Subscribers should always assess Market Risk parameters with their broker or financial adviser.
Information is for paid customers and may not be copied or distributed Copyright 2019